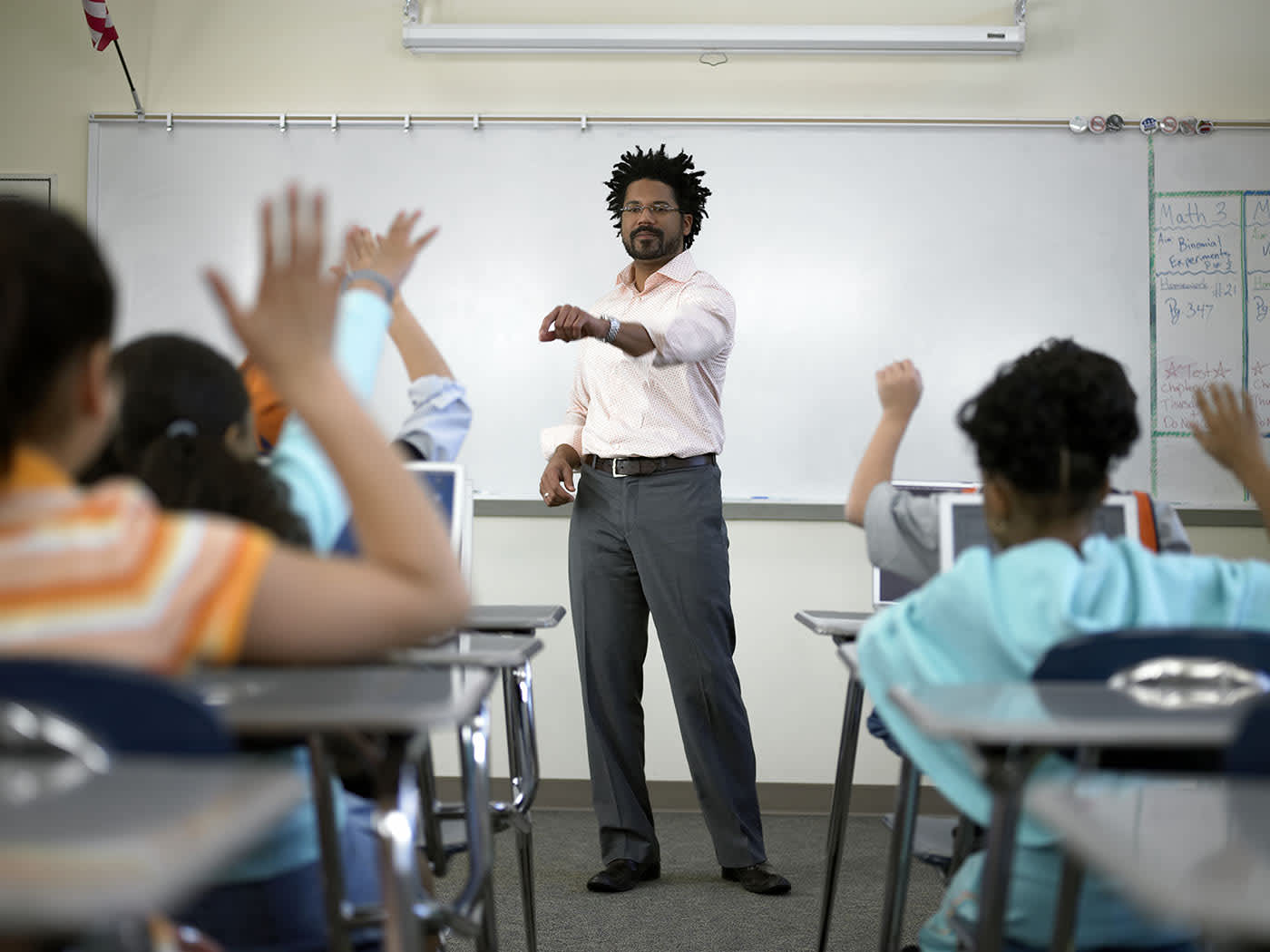 Most Affordable Online Doctorate in Early Childhood Education Programs
GradSchoolHub.com is an advertising-supported site. Featured or trusted partner programs and all school search, finder, or match results are for schools that compensate us. This compensation does not influence our school rankings, resource guides, or other editorially-independent information published on this site.
Discover a program that is right for you.
If you are looking to finish a Doctorate in early childhood education online, you will find diverse career possibilities developing, administering, and improving classroom programs for kids. Early childhood education doctorates are the field's highest, most prized degrees displaying the utmost ability to nurture young student's potential. Holding an EdD or PhD makes you stand out because less than 1 percent of America's public school teachers have completed doctoral training. According to The Chronicle of Higher Education, the nation confers approximately 54,000 doctorates across academic disciplines annually. Online universities are increasingly encouraging early childhood educators to aspire higher with virtual EdD and PhD coursework that's scheduled around full-time teaching.
According to the Bureau of Labor Statistics (BLS), graduates with a PhD in Early Childhood Education receive an average pay of $80,790 per year. Read on to learn more about degree specializations and career potentials in this field.
Early Childhood Education PhD for You
These top schools offer a variety of online graduate degree programs. Figuring out where to apply? Consider one of these online Master's or PhD programs.
Affordable Online PhD Programs in Early Childhood Education
Our Methodology, Explained
Grad School Hub compiles rankings based on public data released from educational, commercial, and government databases. Sources such as the National Center for Education Statistics and the U.S. Bureau of Labor Statistics play a significant role in how we source our educational data. After collecting insight for each institution, we organize information into five weighted categories.
| | | |
| --- | --- | --- |
| Metric | Data Used | Percentage |
| Academic Quality | Full-time faculty percentage, student-to-faculty ratio, student retention and graduation rates | 20% |
| Affordability | Tuition rates, median student debt, and financial aid | 40% |
| Reputation | Admission and enrollment rates | 15% |
| Program Offerings | Number of program options | 15% |
| Online Enrollment Score | Portion of learners taking at least one online course | 10% |
A more comprehensive evaluation of how each category is determined and scored is accessible on our Ranking Methodology page.
A Doctorate in Early Childhood Education prepares you to teach, research and work on policy in the field of early childhood education. This doctorate requires you to gain expert understanding and knowledge of early learning theories, leadership, methodologies, instruction, and research. The Doctorate in Early Childhood Education enables you to explore all aspects of the field from growth and development, curriculum and assessment, and child psychology.
After receiving a Doctorate in Early Childhood Education, you can teach at a college level or become a researcher. Researchers will learn the qualitative and quantitative methodologies and how they can be applied to academia. Graduates also pursue jobs in more leadership positions like policy making roles in government or non-profit organizations.
What's the Difference Between PhD and EdD Early Childhood Education Programs?
Searches for early childhood education doctorates online will turn up both PhD and EdD options because both are esteemed, terminal programs. The Doctor of Philosophy (PhD) is a research-intensive education degree where scholars will investigate questions related to PreK-3 teaching. Pursuing an online PhD would suit early childhood educators seeking tenured college faculty jobs, publication in top-tier research journals, and the challenge of dissertation work. However, the Doctor of Education (Ed.D.) is an applied, professional degree putting practice before theory to manage real-world problems in PreK-3 education. Early childhood teachers can consider an online EdD if they prefer getting school administration jobs, internship experience, and great consulting portfolios.
Common Courses for an Online Doctorate in Early Childhood Education
---
Although each online Doctorate in Early Childhood Education program is different, there are a few courses that are similar across the various programs. If you're looking to obtain an online Doctorate in Early Childhood Education, these are some of the most courses you can expect to take:
Infant and toddler development and practice
In this course, students will learn the theory related to development, learning environments, and developments in infants and toddlers (birth to age 3.) Other concepts in this course include teaching and guiding techniques.
This course goes over the principles of reading and language learning in young children. You can learn about theories, practices, and how to teach reading and writing in diverse settings.
Risks in early development
Risks in early development usually serve as an intro to child development from before birth until the age of eight. The focus of this course is to familiarize you with the risks children with disabilities and their families may face.
Teaching young children in a multicultural setting
This course will prepare you to teach from a multicultural perspective. From teaching strategies, curriculum content, to program designs, you will get a well-rounded understanding of how to teach in a diverse setting.
What Are the Requirements for an Early Childhood Education Online EdD?
---
Entering EdD early childhood education online programs isn't easy since graduate schools want to attract top talent. Online universities might accept candidates with a bachelor's, but most prefer post-grads who've completed master's education at CAEP-accredited colleges. As mentioned in the school profiles above, cheap online early childhood education EdD programs still require academic achievement with a minimum "B" average. Course prerequisites might include curricular pedagogy, child psychology, human development, or statistics. Register to take the Graduate Record Exam (GRE), and aim to surpass the average score of 150. Early childhood education doctorates usually expect online students to hold state teacher certification with a résumé of classroom experience too.
After passing the admission process with flying colors, online early childhood education EdD cohorts begin the rigorous doctoral study. Most online education doctorates mandate two to four years of advanced ECE-focused courses on platforms like Moodle and Blackboard. Seminar-style classes require teachers to enter active discussion boards, take proctored online tests, and post online papers. Field practicum or internship assignments are often included conveniently in candidates' own school districts. Don't be surprised if online EdD programs stick face-to-face residencies into the curriculum, especially during summer breaks. The last doctoral requirement will be the capstone, which is lengthy dissertation research or less frequently an action inquiry project.
What's the Job Outlook for an EdD Early Childhood Education Online Degree?
---
The Georgetown Center on Education and the Workforce (CEW) explained that recent graduate teaching degree holders have an unemployment rate of 1.9 percent. That's surprisingly lower than business, science, and engineering. Perhaps it's because the BLS projects a 9 percent hiring uptick in education occupations. This equates to 876,800 new U.S. jobs by 2026, but some disciplines fare better than others. For example, demand for college faculty will skyrocket by 15 percent. School districts' employment of curriculum developers, principals, and consultants will also increase by 10 percent, 8 percent, and 12 percent respectively in the next decade. Getting an affordable doctorate in early childhood education online can improve your marketability for growing professions.
What Are My Career Options with an Online EdD in Early Childhood Education?
---
Graduating from online EdD in early childhood education degrees will catapult your career into upper-level administrative, research, and teacher leadership careers. You won't likely find doctoral graduates teaching shapes, scrubbing crayon stains, or watching over recess. With an ECE doctorate, you're guaranteed to become qualified for virtually any education-related career working with children from Birth-8. Let's explore some of the rewarding careers where your online doctoral degree will be useful:
Similar Careers
How Much Do Early Childhood Education EdD Online Graduates Make?
---
Affordable online early childhood education EdD degrees can provide great return on investment, especially since the average Pre-K teacher makes just $33,300. SmartAsset reported that doctoral degree holders make a mean salary of $1,623 per week or $84,396 annually. The Bureau of Labor Statistics shows that school administrators are rewarded $95,390 on average. Post-secondary ECE professors make slightly less with a median wage of $70,260 though. Average salaries for curriculum developers, nonprofit directors, and autism clinical directors are $65,500, $70,870, and $99,543 respectively. CNN Money recognized E-learning specialists for America's 39th best job earning income up to $101,000 with "A+" satisfaction. Instructional designer also ranked 38th with top pay at $97,400 yearly.
GradSchoolHub.com is an advertising-supported site. Featured or trusted partner programs and all school search, finder, or match results are for schools that compensate us. This compensation does not influence our school rankings, resource guides, or other editorially-independent information published on this site.
Discover a program that is right for you.
Explore different options for you based on your degree interests.