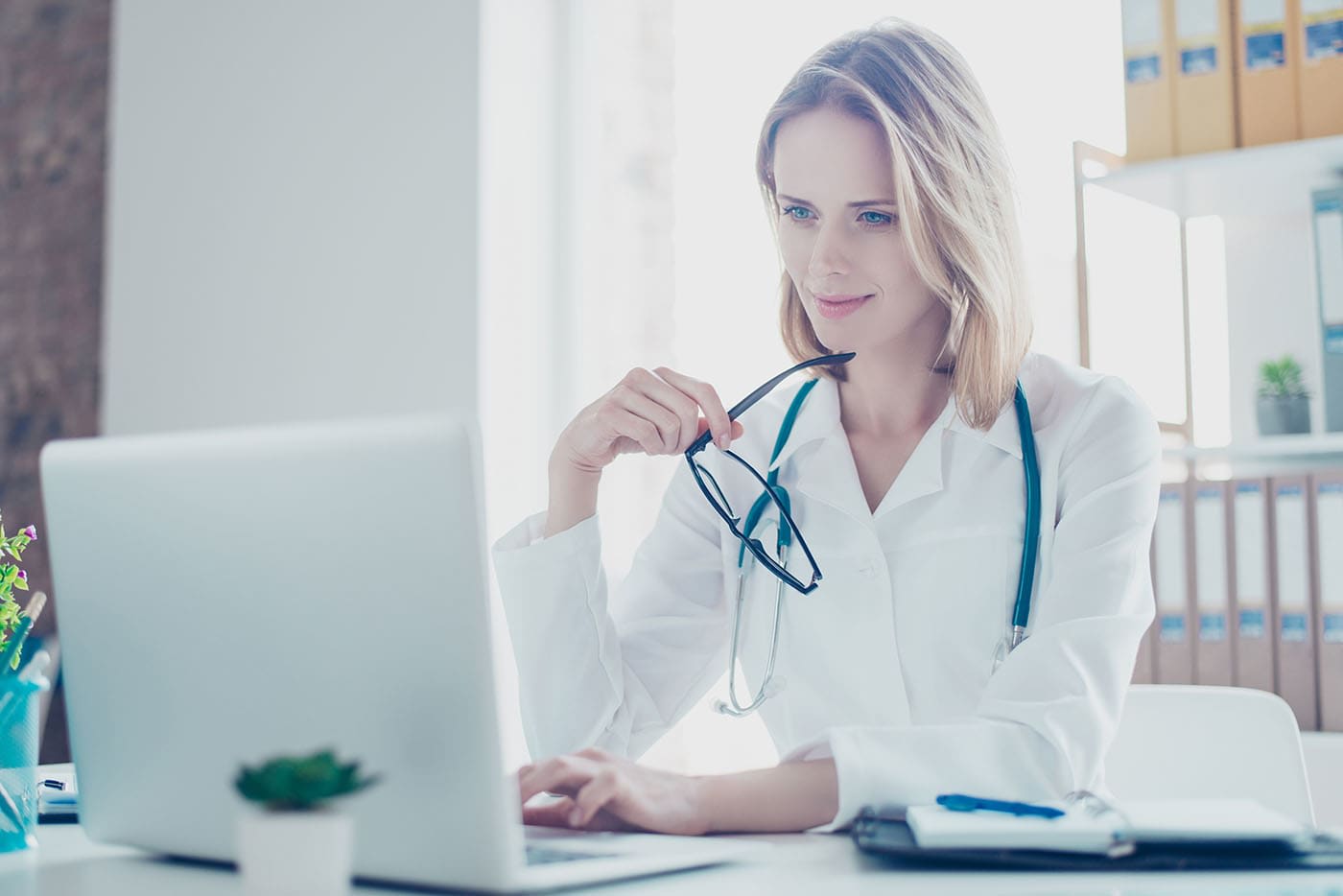 Most Affordable Online Master's in Nursing Programs 2021
GradSchoolHub.com is an advertising-supported site. Featured or trusted partner programs and all school search, finder, or match results are for schools that compensate us. This compensation does not influence our school rankings, resource guides, or other editorially-independent information published on this site.
Discover a program that is right for you.
Designed for current nurses with a bachelor's or associate in nursing, online nursing master's programs help nurses take the next step in their careers. A master of science in nursing (MSN) provides plenty of flexibility, allowing students to specialize their degree in various nursing fields.
Depending on the specialization selected, the career outcomes can be lucrative. The Bureau of Labor Statistics (BLS) reports that nurse anesthetists, nurse midwives, and nurse practitioners earn a median wage of $115,800. Nearly all potential outcomes could see significant job growth over the coming years, too.
According to the American Association of Colleges of Nurses, nursing programs were known to turn qualified applicants away before COVID-19 due to limitations regarding faculty, class sizes, and clinical sites. And the pandemic has caused the field to become more competitive thanks to the changes schools have had to make to the traditional learning environment, such as limiting class sizes and switching to an online learning format. However, the American Association of Colleges of Nursing reported that there was a 6% increase in enrollment in baccalaureate nursing programs in 2020.
This resource explores the most affordable online master's in nursing programs, as well as how an MSN aligns with nurses' career goals.
Explore these promoted online degree programs.
These top, accredited schools offer a variety of online graduate degree programs. Figuring out where to apply? Consider one of these online Master's or PhD programs.
Top 30 Affordable Online Master's in Nursing Programs in 2021
Our Methodology, Explained
Grad School Hub compiles rankings based on public data released from educational, commercial, and government databases. Sources such as the National Center for Education Statistics and the U.S. Bureau of Labor Statistics play a significant role in how we source our educational data. After collecting insight for each institution, we organize information into five weighted categories.
| | | |
| --- | --- | --- |
| Metric | Data Used | Percentage |
| Academic Quality | Full-time faculty percentage, student-to-faculty ratio, student retention and graduation rates | 30% |
| Affordability | Tuition rates, median student debt, and financial aid | 10% |
| Reputation | Admission and enrollment rates | 30% |
| Program Offerings | Number of program options | 20% |
| Online Enrollment Score | Portion of learners taking at least one online course | 10% |
A more comprehensive evaluation of how each category is determined and scored is accessible on our Ranking Methodology page.
Frequently Asked Questions About Master's in Nursing Programs
| Question | Answer |
| --- | --- |
| What types of master's degrees in nursing are there? | Online MSN students can earn a degree in leadership, education, or administration. They can also study to become a nurse practitioner, nurse midwife, or nurse anesthetist. |
| What can you do with a master's in nursing? | A master's degree in nursing leads to advanced careers in nursing. Those that earn an MSN enjoy better paying positions with a specialized role. |
| How long does it take to get a master's in nursing? | A nurse studying full time can finish an online MSN in just one year, though many nursing students must complete clinicals which adds another year or two of study. |
| What is the highest paying job in the nursing field? | According to the BLS, nurse anesthetists earn a median wage of $174,790, though some nurse anesthetists earn even more. |
Source: American Association of School of Nursing
Nurses aim to help others through holistic practices. Aside from providing medical care, nurses monitor patients' mental and emotional wellbeing. All nurses must first complete an associate or bachelor's program and pass the National Council Licensure Examination to become registered. This allows nurses to perform basic nursing tasks, though many specialize their careers through on-the-job experience.
A master's in nursing builds off previous education and experience, teaching new skills that apply to different fields of nursing. Many advanced nursing positions, including positions as a nurse practitioner or nurse midwife, require at least a master's degree.
Career and Salary Outlook for Nursing Majors
---
Completing an online master's nursing program helps current registered nurses advance their careers. However, the potential job openings for MSN graduates vary significantly based on the specialization that students select. Fortunately, the BLS projects that many graduate-level nursing careers could see high job growth rates from 2019-2029. Keep in mind that no level of education guarantees neither a specific position in nursing nor a specific salary.
Source: BLS
Nurse Anesthetists, Nurse Midwives, and Nurse Practitioner
Three positions that require at least a master's in nursing, nurse anesthetists, nurse midwives, and nurse practitioners help specific populations and perform specialized tasks. All three positions require professional certification.
Health Educator and Community Health Worker
Health educators and community health workers promote wellness and healthy habits for individuals and communities. These professionals create strategies to improve health, then work with individuals or groups to implement the strategy. They two work in different environments but often together.
Registered Nurse
Registered nurses provide patient care and treat various health conditions. These nurses assess patients, administer medicine, observe patient reactions, and collaborate with other healthcare professionals. A registered nurse must complete an approved nursing program and become a licensed registered nurse before they can practice professionally.
Medical and Health Services Manager
Also known as healthcare executives, medical and health services managers coordinate healthcare services. These professionals manage a group of physicians, a department, or an entire facility. Most healthcare facilities prefer to hire candidates who hold at least a master's degree.
Similar Industries
Accreditation for a Master's in Nursing
---
Accreditation determines the academic quality of a school and program. The Council for Higher Education Accreditation (CHEA) works with the federal government to verify accrediting agencies. Colleges and universities receive either national or regional accreditation. Employers and doctoral programs prefer applicants who graduate from regionally accredited institutions.
Prospective nursing students should also be aware of programmatic accreditation, especially at the graduate level. The two most important nursing accreditation organizations, the Commission on Collegiate Nursing Education and the Accreditation Commission for Education in Nursing, accredit the best nursing programs. However, advanced nursing programs might secure additional accreditation. If nurses plan on studying a niche field, they should also research other nursing accrediting organizations. Students can find a full list of accrediting organizations through CHEA.
Courses in a Nursing Master's Program
---
The courses a nurse takes during their online MSN vary depending on specialization. Each track leads to a specific career outcome, and the required coursework prepares students for that career.
Still, many online MSN programs have similar course overlap. These advanced courses build upon ethical and theoretical topics introduced at the undergraduate level. Because online master's in nursing programs vary significantly based on specialty, the courses below outline potential courses a learner might take.
Quality and Safety in Healthcare
Patient safety continues to demand more attention from healthcare professionals, and quality and safety in healthcare addresses ways to improve patient outcomes and prevent avoidable harm. This course teaches theories and advancements in science that help improve patient outcomes. Learners also explore the complexities of providing quality and safe healthcare to patients.
Healthcare Policy and Law
Healthcare policy and law explores the legal issues surrounding healthcare. Topics in this course include mental health, food, drugs, environments, policy, and professional actions. Students use the material learned in this course to address potential liabilities within healthcare facilities. While not required for many MSN specializations, those interested in nursing administration or leadership will likely take this course.
Foundations in Innovation and Implementation in Health and Healthcare
This course covers the important growth and development of healthcare best practices. Students learn about new technologies -- such as wearables and 3D printing -- and discover ways to utilize innovations to improve patient care. Learners also explore different theories regarding healthcare innovation and determine whether these theories apply to different scenarios.
Applied Biostatistics for Clinical Practice
Required for many nurse practitioners and advanced practice registered nurse programs, this course teaches students to apply biostatistics to their field. Nurses learn to use statistics to model data and community information, helping professionals find patterns within communities. The direct application of biostatistics varies based on specialization, though the growing importance of data and analytics in healthcare makes this an important course for many MSN students.
Often split into two courses, pharmacotherapeutics introduces the use and effects of drugs. Learners spend most of the course analyzing the different actions and reactions of drugs, determining potential patient harm. By the end of the course, nurses can identify common prescription drugs and describe their uses in medicine. Anyone planning on prescribing medication or drugs to patients must complete pharmacotherapeutics during their MSN program.
What Are the Benefits of a Degree in Nursing?
Advance Your Career

An online MSN teaches important skills that prepare nurses for new positions. Some positions require at least a master's degree in nursing.

Increase Your Salary

Higher levels of education often lead to higher paying careers. Many MSN career outcomes offer larger salaries than registered nursing positions do.

Become a Leader

MSN programs teach important leadership skills, especially if students specialize in nursing leadership.

Quality for Advanced Certifications

Many nursing certifications require applicants to complete a graduate program from an accredited school. Advanced certifications increase employability and qualify nurses for specific licenses.

Focus Your Career

Whether you plan on working in administration or prescribing medication, an MSN allows nurses to focus their career in a specific area.
Types of Online Degrees in Nursing
---
Multiple pathways into the world of nursing exist. When considering an online nursing degree, your options include BSN-to-MSN, RN-to-MSN, and direct entry to MSN. These degree options have varying lengths and requirements.
BSN-to-MSN - Nurses who have obtained their BSN can enroll in an BSN-to-MSN program, and complete MSN-level coursework and clinical hours to earn an MSN. Students can expect to complete the MSN program in one to two years depending on the school. This offers nurses the opportunity to advance their careers and increase their earning potential.
RN-to-MSN - Nurses who have obtained their RN license can enroll in an RN-to-MSN program. Students will complete BSN clinical hours and coursework that allow them to enroll in, and graduate from an MSN program. Students can expect to complete the MSN program in 1.5 to 2 years depending on the school.
Direct Entry to MSN - Non-nursing degree students with no experience who have obtained a degree in another field can fast-track their path to a registered nurse. By simply enrolling in an MSN program of their choice, students can expect to complete the MSN program in 15 months to 3 years depending on the school.
How to Become a Nurse Anesthetist
---
Nurse anesthetists face stricter requirements than other advanced practice registered nurses. After becoming registered nurses, the BLS states that nurse anesthetists then must earn one year of experience working in critical care. Next, nurses must complete an accredited nurse anesthesia program. While some MSN nurse anesthesia programs exist, many healthcare facilities prefer applicants complete a doctoral nurse anesthesia program.
After graduating from an approved program, nurses then become certified through the National Board of Certification and Recertification for Nurse Anesthetists. Nurse anesthetists must also maintain their certification through continuing education courses.
Certifications and Licensure for Nursing Majors
---
Beyond education, certification plays an important role helping MSN graduates secure high-level nursing positions. Many nursing careers require a specific professional certification to become licensed. Other certifications help job applicants stand out. Note that certification requirements vary by desired position, location, and education level.
CNE certification serves nurses in various educational roles, including technical schools and large, four-year universities. To qualify, applicants must hold an active RN license and complete a graduate nursing program with an emphasis on education. Finally, nurses must complete two full years of employment within a five-year window. ">
nurse midwife certification helps graduates secure and maintain a nurse midwife position. Applicants must complete an eligible nurse midwifery program, the computer-based test, and continuing education to renew the certification. ">
family nurse practitioner requires all applicants to complete an accredited graduate program. As with other NP careers, family NPs must earn a professional certification to become licensed in their state. ">
To cover the costs of earning an MSN, many nursing students take advantage of scholarships. Scholarships provide free funds that go toward an education, and some scholarships only accept applicants pursuing an MSN or graduate-level nursing degree. Some scholarships may even cover the entire cost of an online MSN.
Uniform Advantage-GNSA Scholarship
Who Can Apply: Members of the Graduate Nursing Student Academy may apply for this award. Applicants must be currently enrolled in a graduate-level nursing program, hold a minimum 3.5 GPA, and provide professional references. GNSA selects two winners twice a year based on academic excellence.
Amount: $2,500
Geraldine "Polly" Bednash Scholarship
Who Can Apply: Available to nurses at every academic level, the Geraldine "Polly" Bednash Scholarship selects two winners every three months, giving MSN students plenty of chances to win. Applicants must maintain a minimum 3.2 GPA and be currently enrolled in an AACN member institution associated with CastleBranch. Recent applicants awaiting college approval can also apply.
Amount: $5,000
APIC Graduate Student Award
Who Can Apply: The APIC Graduate Student Award provides $5,000 in funding to anyone pursuing a graduate degree related to infection prevention and evidence-based implementation science. Winners of the award present their thesis at the APIC Annual Conference. The three previous winners of this award all pursued a graduate degree in nursing.
Amount: $5,000
Nursing Economic$ Foundation Scholarships
Who Can Apply: Nursing Economic$ provides four $5,000 scholarships to current RNs pursuing a graduate degree in nursing. Applicants must choose a graduate emphasis in administration or management. Additional requirements include studying at an accredited nursing school and planning to work in nursing administration, management, education, or leadership.
Amount: $5,000
AfterCollege/AACN Scholarship Fund
Who Can Apply: The Scholarship Fund selects four $2,500 award winners per year. Applicants must pursue a degree in nursing, a graduate nurse educator program, or an accelerated program. The fund gives special consideration to students completing an RN-to-MSN bridge program
Amount: $2,500
GradSchoolHub.com is an advertising-supported site. Featured or trusted partner programs and all school search, finder, or match results are for schools that compensate us. This compensation does not influence our school rankings, resource guides, or other editorially-independent information published on this site.
Discover a program that is right for you.
Explore different options for you based on your degree interests.