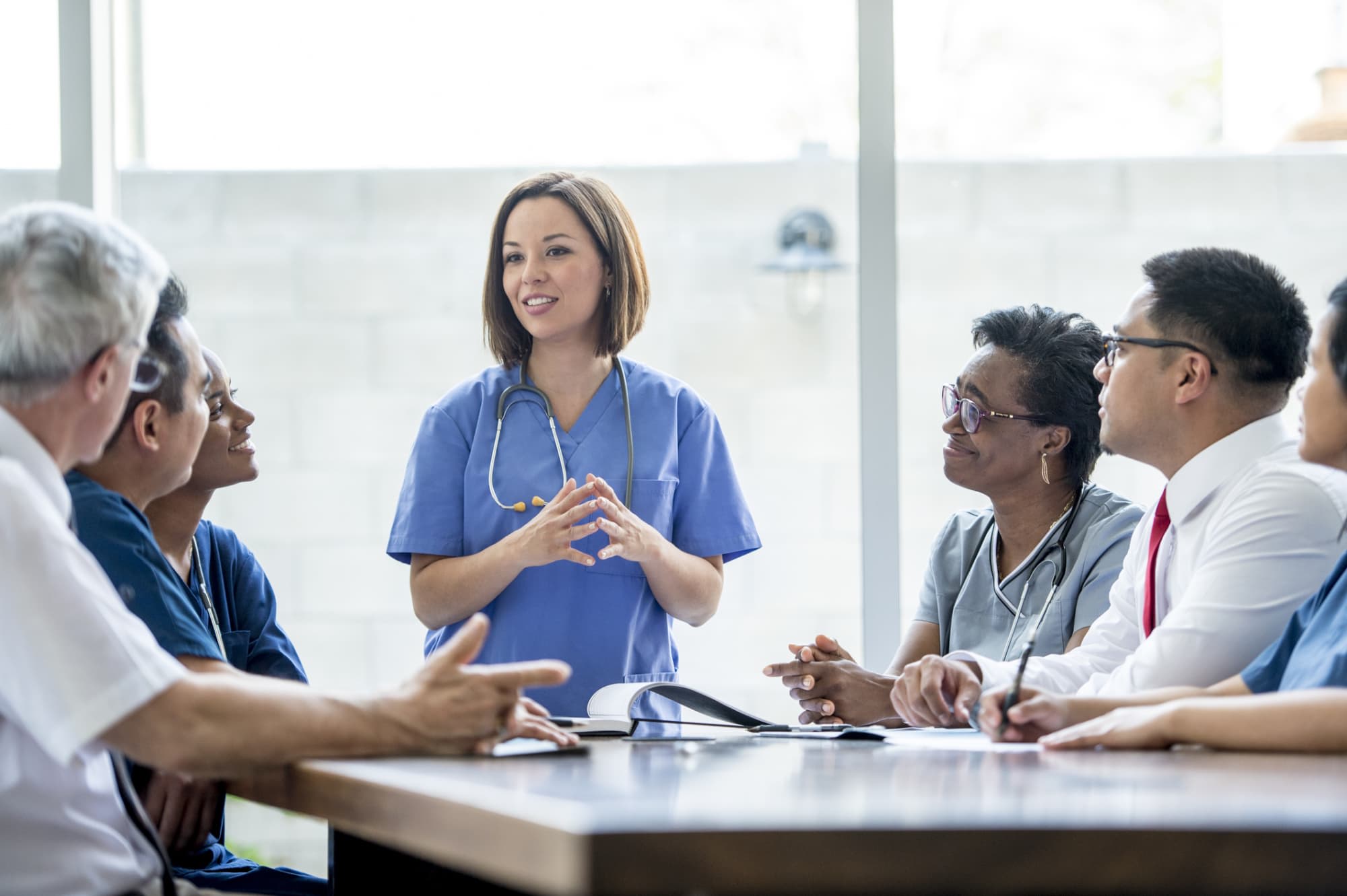 25 Best Affordable Online Master's in Nursing Education in 2021

GradSchoolHub.com is an advertising-supported site. Featured or trusted partner programs and all school search, finder, or match results are for schools that compensate us. This compensation does not influence our school rankings, resource guides, or other editorially-independent information published on this site.
Discover a program that is right for you.
The Covid-19 pandemic has highlighted the importance of the nursing profession and has brought change to the career. Nurse educators are a vital part of this work. The National League of Nursing (NLN) defines these professionals as facilitators of nurse education and leaders who help design and evaluate nursing programs.
As a nursing educator, you'll not only be training the students who would eventually be on the frontline in such a crisis, but you may also find yourself stepping in to help as well. According to the Bureau of Labor Statistics (BLS), careers in this field will continue to grow at a rapid rate — about 13% through 2029.
Nearly 11 million new registered nurses will be needed through 2021 to avoid a shortage, according to BLS data, and the lack of sufficient nursing staff in nursing programs across the U.S. proves the significant demand for these educators.
If you're interested in becoming a nurse educator, learn more about our picks for affordable online master's in nursing education programs below, and let us guide you as you make a plan for your future career path.
Explore these promoted online degree programs.
These top, accredited schools offer a variety of online graduate degree programs. Figuring out where to apply? Consider one of these online Master's or PhD programs.
Most Affordable Online Master's in Nursing Programs 2021
Our Methodology, Explained
Grad School Hub compiles rankings based on public data released from educational, commercial, and government databases. Sources such as the National Center for Education Statistics and the U.S. Bureau of Labor Statistics play a significant role in how we source our educational data. After collecting insight for each institution, we organize information into five weighted categories.
| | | |
| --- | --- | --- |
| Metric | Data Used | Percentage |
| Academic Quality | Full-time faculty percentage, student-to-faculty ratio, student retention and graduation rates | 30% |
| Affordability | Tuition rates, median student debt, and financial aid | 10% |
| Reputation | Admission and enrollment rates | 30% |
| Program Offerings | Number of program options | 20% |
| Online Enrollment Score | Portion of learners taking at least one online course | 10% |
A more comprehensive evaluation of how each category is determined and scored is accessible on our Ranking Methodology page.
How do I become a master in nursing education?
To earn your master's degree in nursing education, you must first complete your undergraduate degree in nursing. The bachelor's program should generally take four years unless you're on an accelerated track or it could take longer if you're not in school full time. Generally you also need to be an RN to be admitted into a master's program and have some clinical experience, though it can vary based on where you choose to get your advanced degree. You also will most likely have to provide a GRE score. The master's program typically takes two years and should include more specialized classes that will provide you with knowledge in ethics, pharmacology, and more so that you have both nursing experience and education experience.
Why should I get a masters in nursing education?
With a master's degree in nursing education, you will be more likely to earn a competitive annual wage, as well as complete highly rewarding work and inspire the next generation of nurses. You will also have the opportunity to teach in nursing schools. You could also pursue grant writing, either for a school or a medical institution, or focus on research in healthcare settings or in academia.
What are the requirements for an online masters in nursing education degree?
Before you can pursue your master's in nursing education, you'll first need a bachelor of nursing. This degree would typically take four years, but if you're in an accelerated program, you could complete it in three. If you're not in school full time, it could take longer. Many schools will also require you to take the GRE test, as well as be an RN and have some clinical experience.
Career Outlook and Salary for Education Nursing Graduates
Graduates with a master's in nursing education can pursue a variety of careers. In addition to working as a nurse educator, graduates can work as clinical research nurses and clinical educators. Both of these titles might appear identical, but the method of learning, work setting, and salary will vary.
Clinical Research Nurse

Clinical research nurses focus on the implementation of studies to investigate new medications and medical procedures. They're a vital player when it comes to testing evidence-based research for safer nursing care. Although the BLS does not categorize a research nurse differently, Payscale.com shows that clinical research nurses earn an average annual salary of $72,019.

Clinical Educator

Instead of focusing on knowledge-based learning, clinical educators specializes in hands-on training and development needed in a healthcare facility. They often oversee a nurse's training and are responsible for coordinating certification training for someone joining a new nursing team.
Top-paying industries for nurse educators
| | |
| --- | --- |
| Industry | Average Salary |
| Medical and Surgical Hospitals | $119,050 |
| Psychiatric and Substance Abuse Hospitals | $95,430 |
| Universities and Professional Schools | $84,320 |
| Community and Junior Colleges | $75,190 |
Source: BLS
According to the BLS, the 2020 mean annual wage for nursing instructors with a postsecondary degree is just over $84,000.
Your salary will vary based on your potential employer's industry too, but in general, nurse educators earn higher-than-average salaries. For example, if you work in a major metropolitan medical center, expect to earn an average salary of over $110,000. Colleges and universities tend to have the lowest wages for nurse educators. On average a nurse educator earns $84,320 working on a college facility.

The BLS projects employment in healthcare occupations, including nursing, are expected to grow 15% percent. So don't dismiss the possibility of pursuing other jobs, beside one as a nurse educator. The degree allows you to enhance your overall nursing skills and knowledge beyond the teaching environment.
Scholarships for Master is Nursing Education Students
---
A.T. Anderson Memorial Scholarship
Who Can Apply: Native American students with a 3.0 GPA who are members of the American Indian Science and Engineering Society are eligible to apply for this scholarship.
Amount: $2,000
AfterCollege/AACN $10,000 Scholarship Fund
Who Can Apply: Students studying for a master's of nursing at a school that's part of the AACN are eligible for this scholarship. Special consideration is given to students in a higher-degree program looking to further their education.
Amount: $10,000
NBNA Scholarship Program
Who Can Apply: National Black Nurses Association members must submit transcripts, an essay, and two recommendation letters to apply for this scholarship. Graduate students must have at least one year of school remaining.
Amount: $1,000-$90,000
What are the Various Disciplines of Nursing Education?
Nursing education has many facets, but it is firmly rooted in the relationship between nursing, education, and technology. Because nurses often earn graduate and postgraduate degrees, they must be taught by working professionals who understand that technology is the new ally in the fight to prepare more nurses for the future of healthcare. Online degrees are becoming much more popular and so many nursing education degrees focus on how technology can help nurses, both in the field and in the classroom.
There are other disciplines as well. Leadership, management, curriculum design, administration, and soft skills are all focused on in nursing education programs. This is because nurse educators must lead the new generation of nurses in the classroom; their duties as nurse educators also means that they must communicate with students and have the ability to structure their time and educational department.
Why is a Nurse License Necessary for this Degree?
An online Master's in Nursing is an advanced professional degree; these programs are built for working professionals with some degree of work experience in nursing. They are not built for academics or scholars, but rather for nurses who wish to transition into teaching. It is very rare to find an accredited program that does not require licensure.
One of the main reasons graduate schools in nursing require licensure is because licensure is the natural next step for an undergraduate nursing student. Without holding licensure they cannot practice nursing anywhere in America. A student without a valid license who is trying to obtain a graduate degree is very likely to be rejected by every program simply.
The other main reason that nursing schools require licensure is that advanced degree builds not only on previous educational experience but work experience as well. A nurse who does not hold licensure cannot work in the field and therefore would be far behind their classmates in terms of curriculum and concepts. They would also be unaware of many of the technical aspects that come with being a nurse.
Many students will also know that clinical hours are required for undergraduate students; this is the same for graduates. Without a valid license, students cannot partake in the practicums at the graduate level. This would bar them from finishing the degree, so schools have decided to require licensure.
It is possible to go from a BSN to a Master's in Nursing, especially through online schooling, but even here, students must hold a nursing license that is in good standing with the state. This is something to bear in mind as a school that does not require licensure should be considered suspicious.
Is Accreditation Important for an Online Master's in Nursing Education?
Accreditation matters for professionals that wish to earn advanced nursing certification and other credentials in their state. For some students, that is the main goal of entering into the field of nursing education; for others, advanced licensure and certification is not as important. The decision really is up to the student.
Most nursing education programs are delivered with accreditation; this is because nursing is a highly regulated field and must be kept to high standards. It's also telling that most of the programs, including all of the ones listed in this ranking, require an accredited bachelor's degree in order to apply for their programs. Accredited graduate programs make a practice of preferring students with an accredited undergraduate degree.
For nursing educators, accreditation is important. The distinction of having graduated from an online accredited master's program is attractive to potential employers. It denotes a commitment to excellence in nursing and is seen as a sign of a valuable candidate.
Professionals should always try to receive a degree from an accredited university, regardless if their next step is to apply for advanced licensure. In fact, many states require their nurse educators to hold advanced licensure; this is not applicable for many states, so students are advised to do their research on the matter.
Nursing education is a field that requires more educators from the professional side of the field. The best teacher for a new nurse is a nurse with experience both in the hospital and in the classroom, which is why this is a great choice for nurses who are ready to move into the next phase of their careers. With this ranking of the top most affordable online master's in nursing education, nurses can pick and choose the schools to apply to that are right for them.
Still Looking for the Right Fit? Discover Similar Programs.
GradSchoolHub.com is an advertising-supported site. Featured or trusted partner programs and all school search, finder, or match results are for schools that compensate us. This compensation does not influence our school rankings, resource guides, or other editorially-independent information published on this site.
Discover a program that is right for you.
Explore different options for you based on your degree interests.