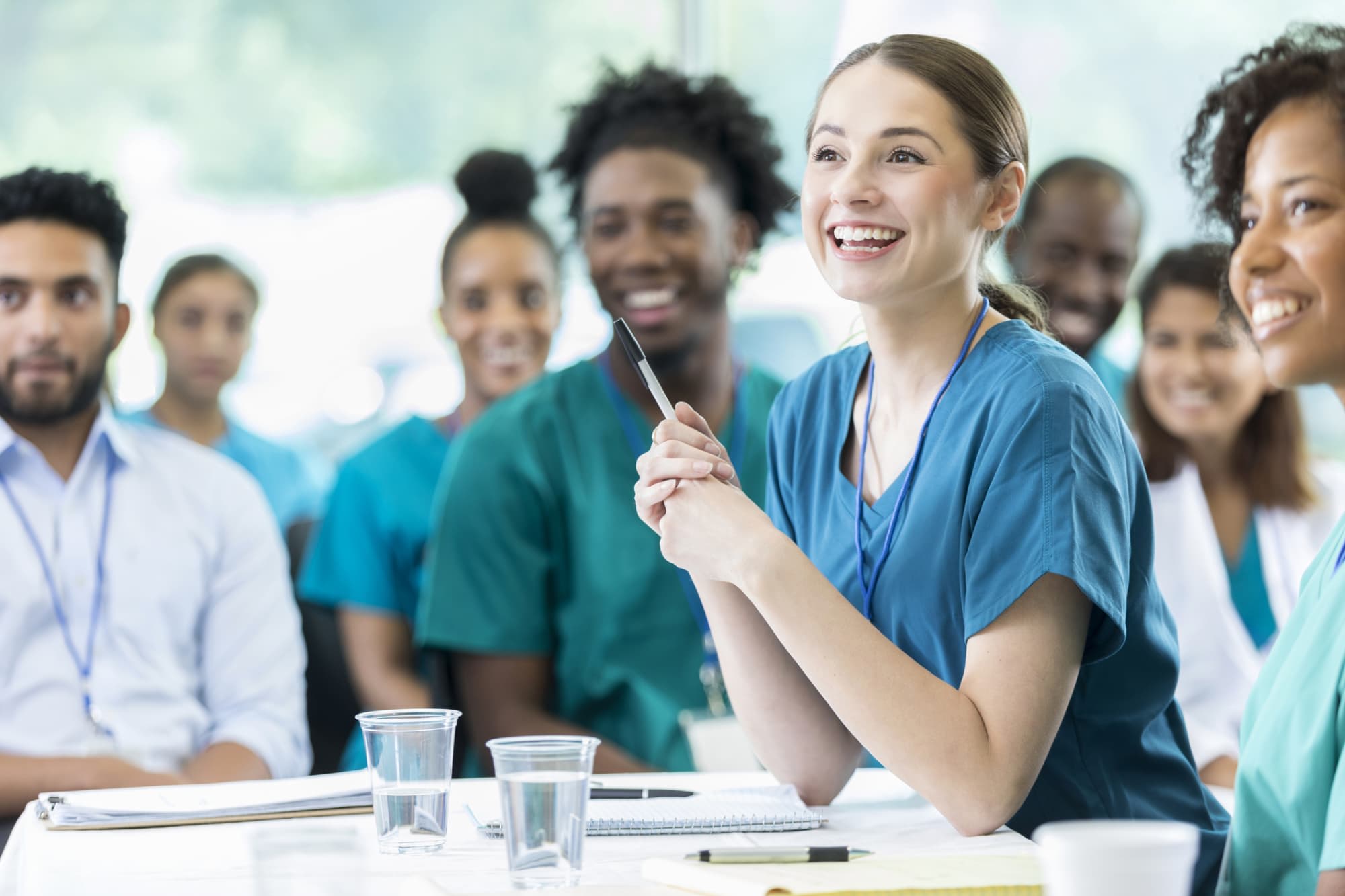 Best Online Doctor of Nursing Practice (DNP) Programs in 2021

GradSchoolHub.com is an advertising-supported site. Featured or trusted partner programs and all school search, finder, or match results are for schools that compensate us. This compensation does not influence our school rankings, resource guides, or other editorially-independent information published on this site.
Discover a program that is right for you.
Doctor of nursing practice (DNP) programs prepare nurses for advanced practice registered nurse (APRN) roles like nurse practitioner, nurse midwife, and nurse anesthetist.
Graduates with a doctorate of nursing practice hold the highest degree in their field and enjoy strong job prospects. APRNs earn a median salary of nearly $116,000 per year, according to the Bureau of Labor Statistics (BLS), with much faster than average projected job growth between 2019-2029.
Before pursuing a DNP, registered nurses should consider their career goals. DNP programs emphasize practice and clinical skills, training nurses for careers in healthcare organizations. In contrast, a Ph.D. in nursing emphasizes research and prepares graduates for academic and research careers.
This article introduces the best online DNP programs in addition to common courses and potential careers and salaries for graduates.
Explore these promoted online degree programs.
These top, accredited schools offer a variety of online graduate degree programs. Figuring out where to apply? Consider one of these online Master's or PhD programs.
| Question | Answer |
| --- | --- |
| What is an APRN? | An APRN provides primary and specialty care for patients. Nurse practitioners, nurse midwives, and nurse anesthetists qualify as APRNs. |
| How long does it take to earn a doctorate in nursing practice? | A DNP program generally takes 3-4 years to complete, depending on the specialty area and the nurse's prior education. In addition to coursework, DNP students complete clinical requirements. |
| What is the difference between nursing practitioners and registered nurses? | Nurse practitioners are advanced practice registered nurses, and they must hold a graduate degree. Registered nurses only need an undergraduate degree to practice. |
| Do you need a doctoral degree to become an APRN? | Nurses can become APRNs with a master's degree; however, some employers prefer candidates with a doctorate for advanced practice roles. |
Best Online Doctor of Nursing Practice (DNP) Programs in 2021
---
With so many options, how can nurses identify the best DNP programs? Our list ranks the top online DNP programs for 2020 to help nurses find the best fit to reach their career goals. After reviewing our ranking, prospective students can also research national certification pass rates, job placement rates, and admission requirements to narrow their choices.
Our Methodology, Explained
Grad School Hub compiles rankings based on public data released from educational, commercial, and government databases. Sources such as the National Center for Education Statistics and the U.S. Bureau of Labor Statistics play a significant role in how we source our educational data. After collecting insight for each institution, we organize information into five weighted categories.
| | | |
| --- | --- | --- |
| Metric | Data Used | Percentage |
| Academic Quality | Full-time faculty percentage, student-to-faculty ratio, student retention and graduation rates | 30% |
| Affordability | Tuition rates, median student debt, and financial aid | 10% |
| Reputation | Admission and enrollment rates | 30% |
| Program Offerings | Number of program options | 20% |
| Online Enrollment Score | Portion of learners taking at least one online course | 10% |
A more comprehensive evaluation of how each category is determined and scored is accessible on our Ranking Methodology page.
What Do APRNs Do?
---
APRNs provide primary and specialty healthcare for patients. They take medical histories, conduct physical exams, and create patient care plans based on their assessments. APRNs hold a high level of responsibility within healthcare organizations.
Nurse practitioners act as primary care providers for adults and children. In hospitals and doctors' offices, they perform health assessments, order diagnostic tests, and design treatment plans based on test results. Depending on their focus area, nurse practitioners may also provide acute, emergency, or psychiatric-mental healthcare for patients.
Nurse anesthetists specialize in pain management. They determine a patient's anesthesia needs before a surgical procedure and administer general or local anesthesia. Nurse midwives specialize in women's health. They care for pregnant women, provide family planning services, and deliver babies.
Advanced practice nurses rely on strong critical thinking and problem-solving skills to create care plans and improve patient outcomes. They also depend on their interpersonal and communication abilities to connect with patients. APRNs act as leaders in healthcare organizations, so the ability to direct and lead staff helps them succeed.
Career and Salary Outlook
---
Graduates with a DNP can work as nurse practitioners, nurse anesthetists, and nurse midwives. In these roles, they earn high salaries and benefit from strong job growth. The BLS projects 45% growth in APRN nursing roles between 2019-2029, which translates to nearly 118,000 new jobs.
While the BLS groups APRN salaries in one report, its data shows that nurse anesthetists earn an average salary of around $180,000 per year, while nurse practitioners earn around $110,000 and nurse midwives earn around $108,000, on average.
| Bottom 10% | Median Annual Salary | Top 10% |
| --- | --- | --- |
| $82,460 | $115,800 | $184,180 |
Source: BLS
Nurse anesthetists (CRNAs)
Nurse anesthetists care for patients before, during, and after a procedure that requires anesthesia. They interview patients to understand allergies and illnesses, administer general and local anesthesia, and monitor patients during procedures. They also adjust the anesthesia and counsel patients on pain management following a surgical procedure.
Nurse midwives provide primary maternity care for women, including prenatal care, family planning services, and delivery services. During labor, nurse midwives may provide emergency care and assist surgeons during a cesarean birth. They also offer wellness care and counsel patients on reproductive health issues.
Nurse practitioners (NPs)
Nurse practitioners provide primary and specialty care for patients of all ages. They may specialize in neonatal, pediatric, or adult patients. Some NPs also train in acute care, emergency care, or psychiatric-mental health care. In these roles, NPs diagnose patients, prescribe medication, and create patient care plans.
Accreditation for Doctor of Nursing Practice Programs
---
Nurses considering DNP programs should always check the accreditation status of prospective schools and programs. Regional accreditation indicates that universities follow best practices for educating students and granting degrees. Only students attending accredited schools qualify for federal financial aid programs.
The best online DNP programs hold programmatic accreditation from a nursing accrediting organization. The Commission on Collegiate Nursing Education (CCNE) and the Accreditation Commission for Education in Nursing (ACEN) grant accreditation to graduate-level nursing programs that meet high standards for training research, clinical, and academic nurses.
In addition to CCNE or ACEN accreditation, prospective applicants can look for specialty accreditation from one of the national certification organizations discussed in the next section.
Choosing an accredited nursing program will shape a nurse's career. State licensing boards and national certification organizations require a DNP from an accredited nursing program to earn an APRN license and become board certified. Prospective applicants can look up accredited schools and programs in the Department of Education database.
Licensing for APRNs
---
Like RNs, advanced practice nurses must apply for a license to practice in their state. While the exact requirements vary depending on the state, most states require a graduate degree from an accredited nursing program, national certification, and a certain number of clinical hours.
In Texas, for example, the Texas Board of Nursing requires a current RN license, the completion of an accredited advanced practice nursing educational program, and national certification in the nurse's specialty area. Texas APRNs must also complete at least 400 practice hours in their focus area and 20 hours of continuing nursing education in the past two years.
APRNs must complete national certification requirements in their focus area to earn their license. The National Board of Certification and Recertification for Nurse Anesthetists grants certification to nurse anesthetists, while the American Midwifery Certification Board certifies nurse midwives.
Nurse practitioners can earn national certification from several organizations, including the American Academy of Nurse Practitioners Certification Board (AANPCB), the American Nurses Credentialing Center, and the Pediatric Nursing Certification Board. Each of these organizations offers certifications in different nurse practitioner specialties. For example, AANPCB certifies family nurse practitioners, adult-gerontology primary care nurse practitioners, and emergency nurse practitioners.
To earn national certification, candidates must hold an MSN or DNP degree in their specialty area from an accredited program. Most certifying agencies also require at least 500 supervised clinical hours. Candidates must then pass an examination to earn national certification.
Courses in DNP Programs
---
DNP programs train nurses in advanced health assessment, quality improvement, and evidence-based practice. By combining classroom and clinical training, nursing students learn to improve patient outcomes and provide high-quality care.
The best online DNP programs strengthen students' research and clinical skills through labs, practicum requirements, and projects. Most programs require 1,000 clinical hours.
Though courses vary by program and school, the following list includes common DNP classes.
Advanced Health Assessment
This class strengthens students' physical and mental health assessment skills. Nursing students learn to assess individuals based on their history, environment, and other factors. Many programs incorporate a health assessment simulation or lab that allows students to practice their assessment skills.
In quality improvement classes, DNP students learn how to design and implement quality improvement plans to improve patient outcomes. The course also trains advanced practice nurses to evaluate and aggregate quality metrics to determine areas for improvement. Coursework covers the process of collecting safety information, analyzing data, and designing system changes based on evidence.
Applying Nursing Research
In courses on applying nursing research, doctoral students learn to design research projects, evaluate the strengths and weaknesses of published scholarship, and develop policies based on research. The coursework prepares advanced practice nurses to translate theoretical research into evidence-based practice.
Advanced practice nurses rely on informatics to treat patients and improve health outcomes. This class teaches DNP students to analyze data and use informatics to inform decision-making. Coursework covers topics like knowledge management, databases, and electronic data mines.
This course trains nurses in managing complex health problems. Learners study current research on health issues throughout the lifespan and the best practices for providing primary care. Most programs also include clinical hours to strengthen students' primary care skills.
Financial Aid
---
Many graduate students rely on financial aid to pay for their degree, such as scholarships, grants, fellowships, and loans. Nurses enrolled in a DNP program at an accredited school can apply for federal financial aid by filling out the FAFSA.
DNP students may also qualify for financial aid through various organizations. Additionally, nurses can lower the cost of their degree by choosing an affordable program. For example, many of the top online DNP programs cost less than on-campus programs, since online learners often save on tuition, commuting, and housing costs. An online program also offers the flexibility for nurses to continue working while pursuing a doctorate.
Professional organizations, private foundations, and private donors offer scholarships that help DNP students pay for their degree. In addition to the following opportunities, nurses should look for scholarships based on their field of study and school.
Oncology Nursing Foundation Doctoral Scholarship
Who Can Apply: The Oncology Nursing Foundation offers a clinical doctoral scholarship for nurses enrolled in an DNP program. Applicants must demonstrate an interest in oncology nursing. The scholarship requires two letters of recommendation.
Amount: $5,000-$7,500
AACN Scholarships
Who Can Apply: The American Association of Colleges of Nursing offers several scholarship opportunities for doctoral nursing students. For example, the Geraldine "Polly" Bednash Scholarship awards $5,000 to doctoral nursing students attending an AACN-member institution. The requirements vary depending on the scholarship.
Amount: $2,500-$5,000
Nurse Practitioner Healthcare Foundation Scholarship
Who Can Apply: NPHF offers scholarships for nurse practitioner graduate students, including those in DNP programs. Applicants can apply for the community service award or the gastroenterology award.
Amount: $1,000
Nurse Practitioner Scholarship
Who Can Apply: Offered by the CVS Minute Clinic, the scholarship funds students enrolled in doctor of nursing practice programs. Applicants must attend an accredited DNP program that leads to national certification and hold a minimum 3.2 GPA.
Amount: $2,500
Nursing Economic$ Foundation Scholarship
Who Can Apply: Doctoral students specializing in administration or management qualify for this scholarship. Applicants must be attending an accredited program and planning a career in nursing administration, education, or leadership.
Amount: $5,000
Still Looking for the Right Fit? Explore Similar Programs.
GradSchoolHub.com is an advertising-supported site. Featured or trusted partner programs and all school search, finder, or match results are for schools that compensate us. This compensation does not influence our school rankings, resource guides, or other editorially-independent information published on this site.
Discover a program that is right for you.
Explore different options for you based on your degree interests.