Just Google It: How Google Has Changed Research for Grad Students
94: percentage of U.S. students who equate research with using Google, or other search engines.
75: percentage of students who use Wikipedia and online encyclopedias.
87: the percentage of all US adults using the Internet who also use search engines.
2 billion: Or nearly 30 percent of all humans, use the Internet
A history of online research
1962: J.C.R. Licklider of MIT has "Galactic Network" concept, a globally interconnected set of computers where everyone could access data from any site.
1989: Demonstration of the World Wide Web by Tim Berners-Lee.
1990: Public release of the World Wide Web.
1990: First search tool for the web (Archie) was created.
1993: First web crawler (Wanderer) was created.
1993: First graphical browser (Mosaic).
1994: Netscape browser launched.
1994: Development of first popular search engines (Alta Vista, Lycos, Excite and Yahoo)
1995: Internet Explorer launched.
1995: First public video-conference took place.
1996: Instant messaging services launched.
1997: Google released
1997: First weblog (blog) is attributed to Jorn Barger's Robot Wisdom Web site.
1997: SixDegrees.com is launched. Often seen as the first social networking site.
Paid placement ranking: Goto morphed into Overture and Yahoo. Ranking depended on how much you paid.
1998 +: Link based ranking pioneered by Google
• Blew away all search engines except Inktomi; meanwhile, Goto/Overture's annual revenues were nearly $1 billion.
2000: 400 million people across the globe use the internet.
2001: First commercial launch of 3G (Third Generation) mobile phones.
2001: First Access Grid developed at the University of Manchester.
2003: Myspace launched.
2003: Yahoo acquires Overture (for paid placement) and Inktomi (search)
2004: Mozilla Firefox web browser released (the 2nd most popular current browser after Internet Explorer).
2004: Facebook launched.
2006: Twitter launched.
2007: iPhone launched.
2008: Google Chrome browser launched.
2010: iPad launched.
2011: Number of internet users estimated as 2 billion world wide.
What is the percentage of people who go online, then use a search engine:
Millennials, age 18-33: 92 %
Gen X (34-45): 87
Younger Boomers (45-55): 86
Older Boomers (56-64): 87
Silent Generation (65-73): 82
G.I. Generation (74 plus): 72
All online adults (18 plus): 87
The battle of the Search Engines (as of 12/13)
Google: 66.7 percent of all searches
Microsoft sites (Bing): 18.2 percent
Yahoo: 11.2
Ask: 2.6
AOL: 1.4
Number of searches (worldwide: 18.3 billion in Dec. 2013)
Google: 12.3 billion of the 18.3 (or 66.7 % see above)
Microsoft (Bing): 3.3 billion
Yahoo: 2 billion
Ask: 452 million
AOL: 234 million
What are the top online research tools used by students
• Google or other online search engine: 94% of those surveyed
• Wikipedia or other online encyclopedias:75 %
• You Tube, or other social media sites: 52%
• News sites of major news organizations (i.e. NY Times): 25%
• Textbooks, electronic: 18%
• Databases, such as EBSCO, JSTOR: 17%
Google Research tools
Google Scholar (www.scholar.google.com) : for search of scholarly literature across many disciplines and sources, including theses, books, abstracts and articles.
Google App Engine: Google funds projects that create tools, applications and curriculum that can be used by other educators in their own teaching environments.
Google Book Search: (www.books.google.com) Search the latest index of the world's books. Find millions of great books you can preview or read for free.
YouTube EDU: Resources for learning, from English lessons to real-life math.
Chrome's FlashCards extension: to learn languages faster, prep for exams
Google Earth: with thousands of aerial and satellite photos, dozens of layers of information: city names, country borders, airport locations, road maps.
Google Play: has millions of FREE books readily available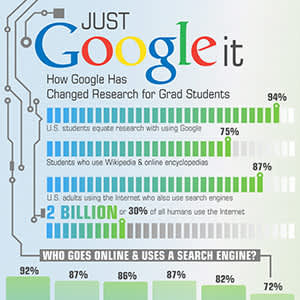 Sources:
https://theconversation.com/us-study-shows-google-has-changed-the-way-students-research-and-not-for-the-better-3087
http://www.insidehighered.com/news/2011/08/22/erial_study_of_student_research_habits_at_illinois_university_libraries_reveals_alarmingly_poor_information_literacy_and_skills#ixzz2pd2IXJBX
http://searchengineland.com/teachers-say-students-equate-research-with-using-google-138542
http://searchengineland.com/search-number-2-online-activity-58927
http://www.stanford.edu/group/mmds/slides/raghavan-mmds.pdf
http://www.lightspeedaheadnewsletter.com/?p=317
http://www.bloomsburyacademic.com/view/What-Is-Online-Research/chapter-ba-9781849665544-chapter-002.xml?print
http://www.comscore.com/Insights/Press_Releases/2014/1/comScore_Releases_December_2013_US_Search_Engine_Rankings
The Pew Reseach Center's Internet and American Life Project Online Survey of Teachers
http://www.teachthought.com/technology/52-google-tips-for-college-students/
https://chrome.google.com/webstore/detail/flashcards/diejjofgldkjkhmfjagdjdodjebpglhb?utm_source=en-social-na-us-social-gplus-post
http://www.gearthblog.com/blog/archives/2012/08/back_to_school_with_google_earth.html
Advancing your education may be a big goal or something you see as necessary for growing in your career. But what is a master's degree and what are the master's...
Seniors were greatly affected during the COVID-19 pandemic. They were the age range of hospitalization and death, and senior living communities and healthcare workers had to take extreme measures to...
Nurses have always been in demand, but this is a great time to enter the field if you're considering a career as a nurse. The nursing profession is currently set...