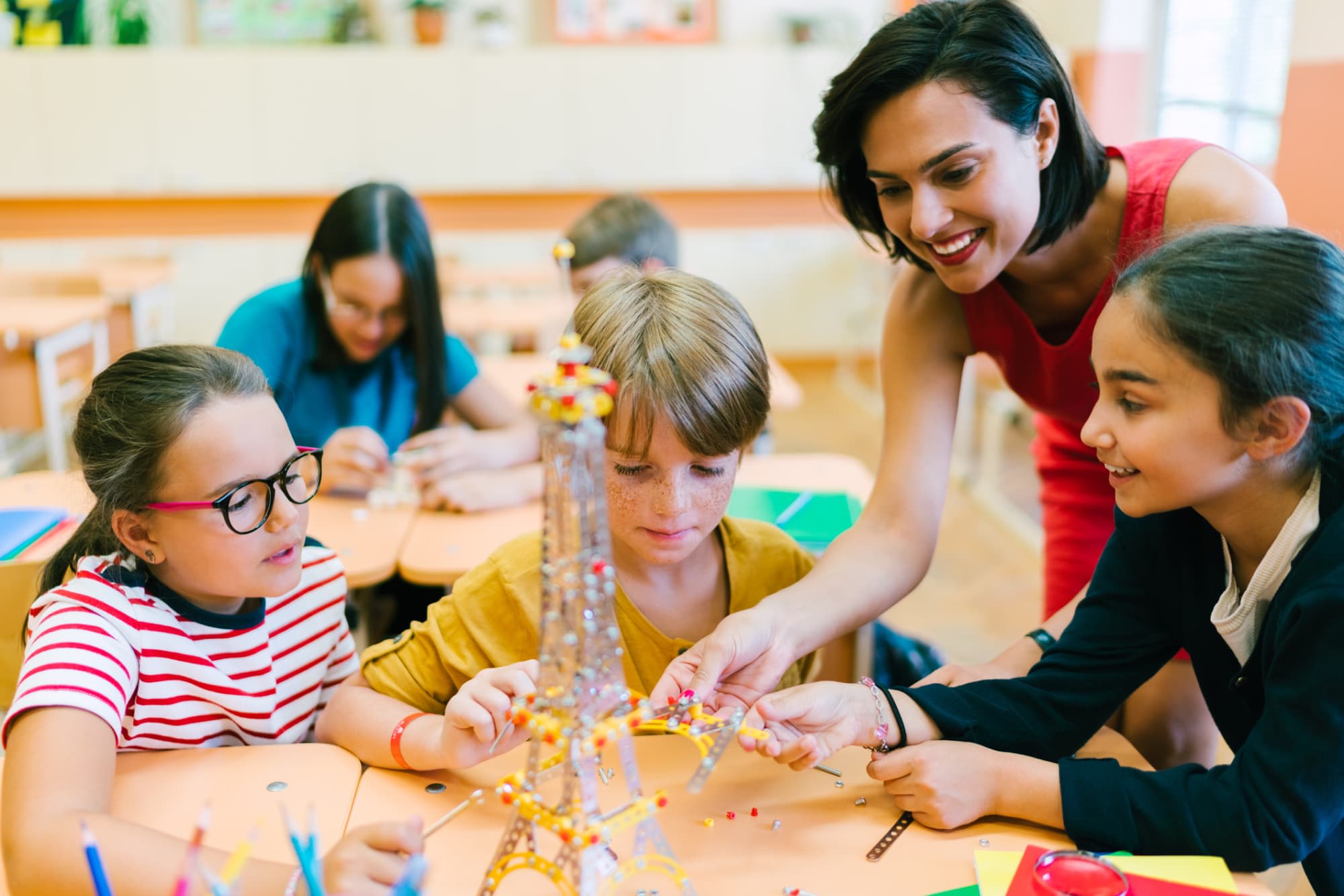 Creating Equitable STEM Curriculum for K-12 Students
GradSchoolHub.com is an advertising-supported site. Featured or trusted partner programs and all school search, finder, or match results are for schools that compensate us. This compensation does not influence our school rankings, resource guides, or other editorially-independent information published on this site.
Discover a program that is right for you.
A recent survey, which tracks nationally representative K-12 STEM data, sheds light on the impact of STEM education — especially computer science and engineering.
For the first since its release in 1977, the study pointedly shows that the STEM curriculum is less frequently made accessible to students than other kinds of study, such as reading and language arts.
"There has been such a huge push towards getting students access to computer science, and this is the first time that we've been able to get systematic data," says Sean Smith, President of Horizon Research, Inc. that led the study. "What I hope is that with this data, we'll have a better sense on how to move forward."
The problem is not so much interest or the availability of curriculum. It is a matter of finding the appropriate, qualified instructors to teach these invaluable topics. The U.S. is facing a serious shortage of STEM teachers, and it is worse in lower-income areas that often do not have the salaries or resources to entice the teachers that students need.
Children who enroll in STEM courses are more likely to pursue these fields in a professional capacity. STEM curriculum has been shown to provide a path to lucrative salaries and stable employment in business, research, government, and education.
The demand is there. Experts predict that by 2025, an estimated 3.5 million jobs will go unfulfilled. Meanwhile, the number of jobs continues to climb, expected to increase by 13% through 2027. Computer science, engineering, and advanced manufacturing are expected to experience the largest growth, yet these areas lack the qualified teachers necessary to offer these classes.
STEM curriculums aren't available everywhere. Smaller schools are less likely than larger ones to offer courses like computer science, leaving these students at a serious detriment when it's time to graduate high school.
The lack of accessibility and preparedness is causing a serious issue, especially when STEM courses can set children up for a rewarding and lucrative career.
How Can Schools Encourage More Students To Study STEM?
When it comes to STEM curriculum, the issue is not a lack of interest. Students want to learn, but need for resources is hindering the potential to support them. That's why more teachers must become better qualified to meet student's curiosity for math and science fields. By enabling under-qualified or inexperienced teachers to expand their knowledge, they are more equipped to prepare the next generation of STEM professionals.
Hire well-trained teachers
One 2015 study revealed that only 23% of 8th-grade teachers in low-income schools have an undergraduate degree in math, compared to 31% of teachers in low-poverty schools. Hiring teachers with a Master's Degree in Education and a focus on math or science can help prepare students for the challenging collegiate curriculum they will face after high school. There are several affordable online education programs that teachers can enroll in to improve their knowledge and teaching skills.
Develop coaching programs
Also known as multi-classroom leadership, networking between teachers of different schools can help improve the quality of STEM education at lower-income schools. More qualified teachers could serve as teaching coaches to better develop the STEM curriculum at lower-income schools. This could be included in any introductory training, creating an additional opportunity for new teachers since about 30% of schools do not offer any teacher induction programs.
Create after-school programs and summer learning
After-school programs allow young students a chance at an exposure that they may not otherwise get, with so many schools overlooking STEM studies in their curriculum. It gives marginalized groups a chance to learn, welcoming into the fold female and low-income students. Without these after-school and summer programs, these students could miss the opportunity to follow their interests and fulfill overwhelming job market demand.
Promote peer-to-peer mentorship
Students enrolled in STEM courses, and activities can network with other schools, clubs, and groups to share resources and skills. It takes some of the pressure off educators by allowing students to interact and educate one another while also teaching necessary skills in the business world.
Mentorship also allows students to improve their STEM knowledge while expanding critical skills like teamwork, collaboration, imagination, and problem-solving.
Why Is Early Exposure To STEM Important?
By 2028, STEM-related employment is expected to increase by nearly nine percent, while healthcare careers will likely experience a 15% growth by 2029. Reports show that STEM positions offer some of the fastest-growing and highest-paid jobs, with over 80% of all new positions in the U.S. utilizing key STEM skills. However, those jobs will go unfulfilled without the proper professionals to fill them. That starts early at the school level, where early STEM education can spark a lifetime's worth of interest and enthusiasm.
During these unprecedented times, the coronavirus pandemic has reinforced digital dependency as business and communication have been relegated to phone, chat, and teleconferencing. As we enter into a new post-COVID world, business looks more different than ever before, and it serves as further proof that STEM education is critical for survival in today's professional world. It teaches a level of logical and rational thought that can arm students for success.
"STEM field degrees, and particularly computer science and data analysis degrees, are especially beneficial post-COVID because of the rapid scale-up in digitization," explains Mark Koning, higher education writer for Discover Business, an MBA resource site for students. "The amount of business-to-business and automation software being created and adopted is unprecedented."
He looks to the future and offers his perspective. "I think e-commerce and communication management will be two of the most lucrative business specializations moving forward because brick and mortar is almost dead, and businesses are rapidly trying to expand their online offerings."
By exposing children to a STEM curriculum at a younger age, they can better grasp the evolving world around them and adapt along with it. Horizon Research Inc's survey found that students exposed to STEM as early as elementary school were three times more likely to have an interest in pursuing a STEM-related career.
There are several ways that a STEM curriculum can benefit students.
Improves logical thought process
Builds problem-solving skills
Develops project management skills
Teaches time management
Requires critical thinking
Provides opportunities for teamwork and networking
Resources
Coursework Resources for Educators
One of the biggest problems facing educators and school systems today is the lack of resources required to adequately teach science and math curriculum. However, there are several alternatives that both parents and educators can use to further student STEM education at school and at home.
With many schools closed from coronavirus, these activities are fun, easy, and affordable to share with your young STEM students right at home.
Additional Funding Available
There are several options for grants and additional funding to support STEM educators so they can focus their best efforts inside the classroom.
| Program | Services |
| --- | --- |
| U.S. Department of Education | The Department of Education provides annual discretionary grants to support continued STEM education and maintains an active database of active opportunities. |
| STEM Grants | Since 2009, STEM Grants has provided support, earning over $6.8 million in grant funding for K-12 and non-profits with additional research, support, and online STEM grant classes. |
| NextWaveSTEM | There is a several-pronged approach to STEM support with educator empowerment, "We Teach" Programs, and professional development for K-12 educators. |
| National Education Association (NEA) Foundation | The NEA Foundation provides STEM grants, specializing in educator-led and union-supported STEM programming for K-12 and school districts. |
| FIRST® STEM Equity Grant | FIRST® is centered in the robotics community, serving nearly 30,000 children in economically disadvantaged areas in 2019 alone. |
| Teach.com | Teach.com offers resources for teacher education grants with online education courses. |
Building long-term foundations
There's no question that STEM is emerging as a leader in both the job market and the business world. Demand is high for qualified professionals, but there is a serious deficit in trained, experienced educators who can teach and prepare aspiring students with the skills they need to be successful. There is an overwhelming demand for these kinds of programs, but lower-income students appear to be the hardest hit when it comes to educator and supply shortages.
To make a difference in STEM education for all communities, educators and students need to collaborate with the local community. By building relationships and networking with established businesses, today's professionals can help nurture and guide the next generation.
GradSchoolHub.com is an advertising-supported site. Featured or trusted partner programs and all school search, finder, or match results are for schools that compensate us. This compensation does not influence our school rankings, resource guides, or other editorially-independent information published on this site.
Discover a program that is right for you.
Explore different options for you based on your degree interests.